Intrumental versions of the songs in Mission Kashmir played by me on my Syntheziser and recorded digitally. Download the MP3s here!!
StoryLine In a valley of astonishing beauty, a small family lives in an idyllic house a father, a mother, a son. They are the very picture of happiness and love. But appearances are deceptive.

This pastoral landscape is the strife-torn valley of Kashmir, and the son, Altaaf, is an orphan of war who has been adopted by a policeman, Inayat Khan (Sanjay Dutt), and his wife, Neelima (Sonali Kulkarni). Altaaf is slowly recovering from the psychic wounds of seeing his parents and his young sister shot to death before his eyes by a masked man.

One day, Altaaf discovers that the man he now calls "Abba" is the same masked intruder who killed his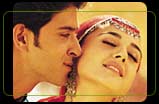 defenseless family during a firefight with militants. In that single moment of discovery, a warrior is born. Altaaf puts on the same mask that Khan wore during the fatal fight, and flees into the darkness.
Ten years later, a famed guerilla fighter named Hilal Kohistani (Jackie Shroff) leads a determined band of men into the valley of Kashmir. These men are renegades who pride themselves on their distance from any other militant group or government agencies. They are completely unknown and unsupported, and so are eager to make a worldwide reputation for themselves at one stroke.
This group is on a highly secret mission codenamed "Mission Kashmir," a closely-guarded plan that will change the map of the subcontinent forever. For Hilal Kohistani, this all-important end justifies any means. He is absolutely willing to sacrifice millions of human lives, feelings, love, faith. To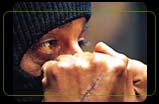 successfully complete this mission , Hilal Kohistani needs a fearless soldier, finely -trained fighter whose deadly combat skills and burning anger will drive him unerringly to the target, like a missile. Hilal Kohistani has just such a man Altaaf (Hrithik Roshan).
And so Altaaf comes back to the streets and bylanes of his childhood. He fights for Hilal Kohistani, but he is also obsessed with his own private mission he wants to, he must kill the masked intruder who haunts his nightmares -- Inayat Khan. In Shrinagar, he meets his childhood sweetheart, Sufi (Preity Zinta), who is now a vivacious television reporter. In her beauty, compassion, and optimism, Altaaf rediscovers love and hope.
And yet, Altaaf is consumed by his hatred for Khan. As the countdown for Mission Kashmir ticks relentlessly closer towards an apocalypse, Altaaf and Khan engage in a duel to the death.
The fate of Kashmir and of the Indian nation will depend on the outcome of their final, ferocious encounter. Will Altaaf and Khan kill each other?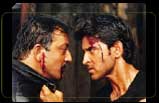 Will Hilal Kohistani reveal the true purpose of Mission Kashmir? Will the worshippers at the Hazratbal mosque and the Shankracharya temple still be able to pray side by side? will Kashmiriyat -- the age-old Kashmiri tradition of religious harmony and tolerance -- live or die.
The answers lie at the heart of... Mission Kashmir.

Inayat Khan (Sanjay Dutt) is an upright Kashmiri police officer who is proud of his Kashmiri ancestry. He is immersed in the tradition of Kashmiriyat, the age-old Kashmiri tradition of religious tolerance and harmony. A resolute man with a sense of deep commitment to his job, Khan also enjoys a near legendary loyalty from his men.


Altaaf (Hrithik Roshan) as a young boy witnessed the massacre of his entire family in a shoot out involving militants. That shoot out became his permanent nightmare. His anger drives him to Hilal Kohistani, a mercenary, who transforms him into a deadly fighter.


Sufiya Parvez (Preity Zinta) is a vivacious television programmer who works for Kashmir TV. As a young girl, Sufi grew up with Altaaf. Even though Altaaf disappeared after that fateful shoot-out, she still cherishes his memory. Sufi has grown up to be an independent and strong minded young woman.


Hilal Kohistani (Jackie Shroff) is a dreaded mercenary who is a veteran of many battles. He shelters the young Altaaf and uses Altaaf's anger to turn him into a deadly trained fighter.


Neelima (Sonali Kulkarni) plays the compassionate and entirely humane wife of Inayat Khan.